Welcome
COMPLEX ELAIA APARTMENTS & STUDIOS
In the beautiful and picturesque location of Agios Ioannis in Lefkada, just 600 meters from the beach, you will find the green complex ELAIA which includes:
• Fully furnished one bedroom apartments overlooking the Lefkada lagoon and the picturesque windmills with kite surf
• Renovated and fully furnished spacious studios (35sq.m.) overlooking our lush garden. Located in the arms of the beautiful Lefkada olive grove, the ELAIA complex - painted in the color of the olive leaf - is located in the middle of a large, green estate of four (4) acres, paved from end to end with grass and colorful flowers and lush with centuries-old (from 1510 AD) olive trees. The combination of simplicity, cleanliness and functionality make the apartments elegant, but also the whole complex a place of peace, shelter of peace, tranquility and unforgettable holidays. Our accommodation is located at a distance of six hundred meters (600 m.) From the famous and beautiful beach of Agios Ioannis (the beach of the town of Lefkada) and just 1 km. from the city of Lefkada.
The hosts of the ELAIA complex have the will and experience to make your stay pleasant and enjoyable. This can be seen from the comments of the visitors. The ELAIA complex operates from May to October, offering it's services and its unique hospitality.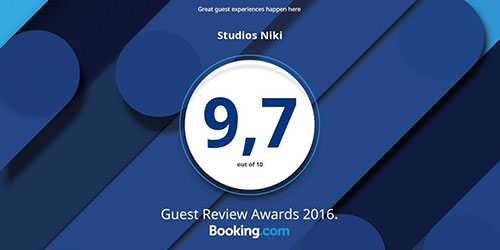 Elaia
IN THE MOST BEAUTIFUL LOCATION
Studios Niki
ON THE MOST BEAUTIFUL LOCATION
Book now
CHECK FOR AVAILABILITY
Access
THIS IS WHERE WE ARE LOCATED
Contact details
NIKI STUDIOS - AGIOS IOANNIS LEFKADA